ORDERS FROM THE GRILLE
FOR DELIVERY OR FOR PICK UP
The Grille at Teton Springs is taking the proactive measure of closing our dining room effective immediately. We are acting in the best interests of our community's health and will reopen as soon as the Covid-19 pandemic is under control.
We intend to maintain the positive momentum we have built this winter with our culinary team and offer delivery and take out options for our patrons.
​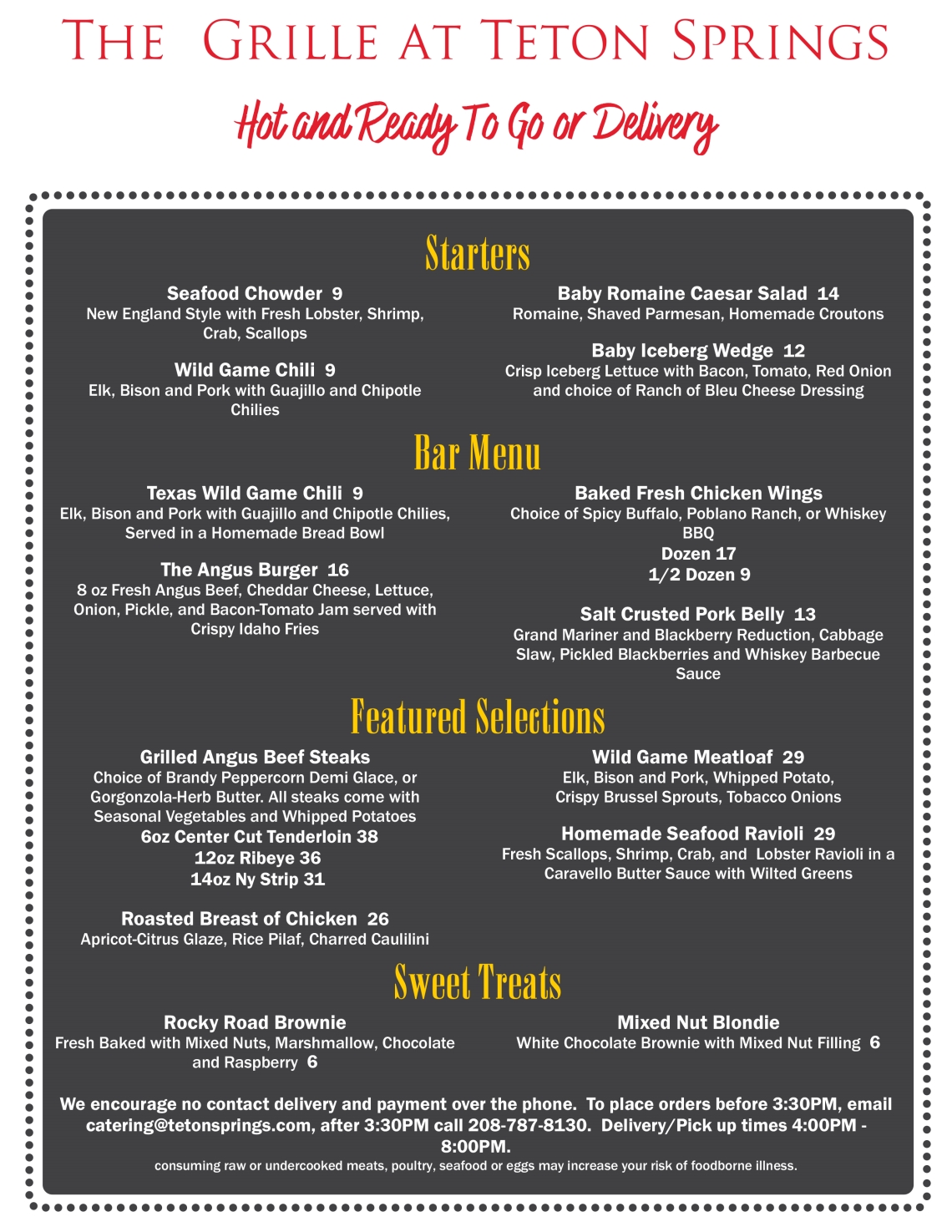 Phone: 208.787.8130 - We open for phone orders at 3:30PM

Email:
For orders placed before 3:30PM


[email protected]





The Teton Springs App:

You may place your order online with the Teton Springs app. Download for Apple or for Android for either pick up at The Grille or delivery.
In an effort to minimize interaction, we are only taking payment via credit cards and member charge. We will contact you by phone prior to order delivery or pick up to process your payment.
Please leave us your phone number when you place your order.
---
TETON SPRINGS APP:
Download for iPhone
Download for Android
PICK UP AND DELIVERY DETAILS

DELIVERY DETAILS
Delivery for those who live in Teton Springs is complimentary as always. Delivery for those who live outside of the Club to the south end of Victor will be $10. Unfortunately, we are not able to make deliveries to Jackson, Driggs or Tetonia.

Our delivery drivers are all a part of Teton Springs management team. We will call or text you 10 minutes prior to delivery and either ring the doorbell or knock on your door, after placing your order on your porch. To best practice social distancing, we will depart without interaction.
PICK UP INSTRUCTIONS
Please call 208.787.8130 as you arrive at The Grille. Your pick up order will be placed in front of the restaurant's main doors on an entry porch table. Your receipt will be in the bag and we will wave from the window.
Our drivers are not able to accept any form of payment. All orders with gratuity will be charged prior to delivery.
Dining Venues
The Grille at Teton Springs
Located in the heart of Teton Springs Resort and Club, the Grille offers both a casual and formal dining atmosphere. Enjoy the full bar and indoor seating. On sunny days, bright Teton sunshine floods the dining area through spacious windows that overlook Headwaters Golf Course and the Big Hole Mountain Range. During winter, have a seat next to the two-sided fireplace to enjoy a cozy meal.
The menu features gourmet seasonal fare that appeals to all palates.
Fireside Patio
Situated just outside of The Grille's indoor dining space is an expansive patio and custom firepit. Teton Valley boasts over 200 days of sunshine and there is no better way to relax and unwind than by sharing a meal outside on the Patio. Full service bar and menu service is offered.
Private Dining
Reserve seating for a private dining party in Byron's Billiard Room, a multi-media equipped dining space that offers an exclusive yet comfortable ambiance. It is the perfect space for business leadership meetings or to host a private dinner with friends. Byron's billard table provides added entertainment to any gethering.
You may also reserve private dining for larger groups at The Grille and Fireside Patio.
Hours of Operation
Contact Us